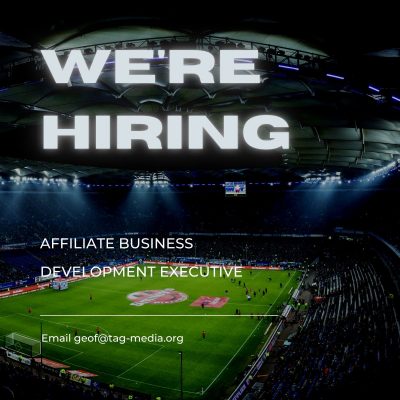 We are looking to hire a talented Affiliate Business Development Executive to develop partnerships for our operator clients with leading affiliates around the world.
If you have sales and affiliate marketing experience in the iGaming industry and have a demonstrable track record of deal making in the space, then we'd love to hear from you.
Email careers@tag-media.org
Salary: starting at 30K GBP per annum
Bonus Structure: TBC in six-month review
Who We Are
As an iGaming Marketing Consultancy & Digital Publisher, TAG Media maximises revenue streams for its clients and partners by developing digital marketing strategies & partnerships and optimising the customer journeys, user experiences, player conversion and lifetime value attached to them across the iGaming and Social Gaming space.
Our client services team develops, manages and grows iGaming affiliate programmes for operators around the world.
Role Overview
The Affiliate Business Development Executive will play a central role in the growth and success of our Client Services team.
The Affiliate Business Development Executive will work closely with the Head of Business Development and Head of Client Services and the rest of the Client Services team to deliver warm leads to the sales organisation and business development services to our clients.
Key Skills Required
Good understanding and experience of affiliation within iGaming
Fundamental ability to self-start, work in a small team, multitask and work to deadlines
Ability to analyse performance data and metrics and confidence in making decisions regarding campaign direction based on insight
Excellent interpersonal skills, numerical analysis and communication skills
Capability to manage projects to ensure delivery of multiple / overlapping streams of work
Ability to learn quickly and get "stuck in"
Strong commercial focus
Previous sales experience
A degree or relevant qualification
Experience in the iGaming market (particularly sports and casino)
Valuable skills:

CRM systems
Outreach tools
Lead qualification
What you will be doing
Build close working relationships with affiliates of various sizes.
Grow the company's affiliate base by identifying new partners and other opportunities in markets around the world
Identify, evaluate, propose and launch initiatives and campaigns to drive client customer acquisition through the affiliate channel with the aim of developing best in class programs.
Work closely with the Head of Business Development to ensure project deliveries are to a high standard and on time.Review & propose recommendations on current activity, commission terms & affiliate portfolio to maximise campaign performance.
Negotiate and review commercial arrangements with affiliates on behalf of clients with regard to campaign delivery and performance.
Actively contribute to 'Ideas generation' with a view to enhancing and developing a best in class digital offering.
The role will involve travel to relevant iGaming industry events, in the UK and mainland Europe.
Nurture on an existing affiliate database and keep developing/qualifying it
Cold outreach campaigns to deliver warm leads to the sales organisation
Benefits:
20 days per year plus statutory holidays & 5 mental health days off – including Christmas week
Home Working allowance (printer, desk/chair allowance, home broadband & mobile contributions, plus coffee allowance)
About TAG Media
TAG Media prides itself on effecting positive and responsible change with our clients, partners and industry. As an iGaming Marketing consultancy & digital publisher, we ensure, first and foremost, our work with affiliates, operators & game studios raises standards through improved compliance and unique social responsibility strategies designed to protect the end customer, sustain our industry and deliver results for our clients.
Now entirely set up as a remote-working business, the company operates via four divisions. Client Services – our core proposition delivered through Performance Marketing & Business Development services to iGaming operators looking to grow their business around the world. Publishing – a growing portfolio of portals driving high quality leads to our partners. Growth – consultancy, public affairs and training services to the iGaming industry. First Look Games – the leading content marketing platform connecting game studios with affiliates.
Our staff comprises of highly skilled iGaming performance marketing professionals, with team members averaging over 12 years of industry experience with operators of all shapes, sizes and product verticals.