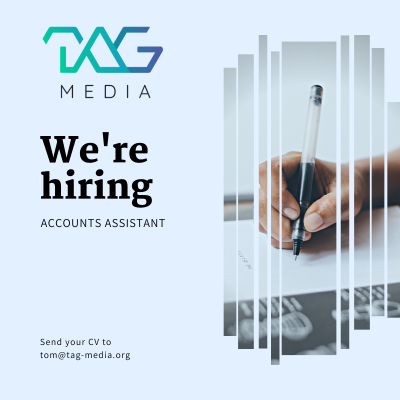 TAG Media, a leading iGaming marketing consultancy, is looking to recruit a part time Accounts Assistant, to handle book keeping responsibilities.
Working 16 hours per week, and based remotely and reporting to the Managing Director, the Accounts Assistant will take full responsibility for managing the companies' accounts payable and accounts receivable ledgers, credit control and coordinate with our accountancy firm on matters relating to payroll & dealings with HMRC, assisting as required with quarterly VAT & annual corporation tax returns.
This role will suit someone who has between 1-2 years experience in accounts and has a bright and enthusiastic approach to what they do, as well as a keen eye for detail.
Next Steps
If this sounds like you, we would be really pleased to hear from you. We value applications that show you have understood what we are looking for and how you feel you might fit in.
Key Responsibilities:
⁃ Creating and sending Sales Invoices across 3 companies (2 x UK limited companies, 1 Unite States C-Corp subsidiary) via Xero
⁃ Managing the company's sales & purchase ledgers
⁃ Collating & recording contractor/supplier invoices for payment
⁃ Managing reconciliation on Xero
⁃ Chasing sales payments from customers
⁃ Logging and recording expenses
⁃ Working with the Business Operations Manager to create financial dashboard reporting for the executive team
⁃ Working with UK Accountant to ensure PAYE, VAT & Corporation Tax requirements are met
– Oversee collaboration between US Accountant & UK Accountant
⁃ Working with colleagues to ensure accuracy of information & the creation of efficient processes relating to billing & compliance
What You'll Need:
We are looking for an enthusiastic, quick learner with great attention to detail, and who has experience in similar roles.
⁃ Advanced IT skills
⁃ Experience or knowledge of tax accounting, specifically PAYE, VAT & Corporation Tax
⁃ Experience in using accounting software, specifically Xero
⁃ Excellent organisational & time management skills
⁃ High attention to detail
⁃ Positive attitude
⁃ Must be comfortable working independently, with prior experience of remote working
Desirable Skills:
⁃ US Tax Accounting & Compliance Experience
Work remotely:
Benefits:
· Pro Rata: 20 days per year paid leave, plus statutory holidays & 5 mental health days off – including Christmas week
· Home Working allowance (printer, desk/chair allowance, home broadband & mobile contributions, plus coffee allowance)
Job Types: Part-time
Salary: £21,000.00-£24,000.00 per year (pro rata)
Email tom@tag-media.org