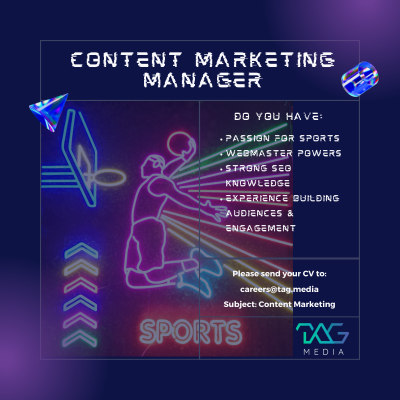 TAG Media is looking to hire a dynamic Content Marketing Manager to join it's burgeoning Publishing Division.
TAG Media's Publishing Division was created three years ago with the objective to build an influential portfolio of betting and casino affiliate sites that educate, entertain, and empower the betting community (Triple E). Due to exceptional growth, we are looking to hire a Content Marketing Manager to develop content that achieves our business goals.
Email careers@tag-media.org
Salary: £40,000-50,000 per annum
Who We Are
As an iGaming Marketing Consultancy & Digital Publisher, TAG Media maximises revenue streams for its clients and partners by developing digital marketing strategies & partnerships and optimising the customer journeys, user experiences, player conversion and lifetime value attached to them across the iGaming and Social Gaming space.
Our client services team develops, manages and grows iGaming affiliate programmes for operators around the world.
Role Overview
The Content Marketing Manager will lead and oversee the planning, organization, creation, and publishing of content for our betting affiliate sites in the US and UK – www.us-odds.com and www.punterslounge.com – as well as future sites we roll out.
They will work closely with the Head of Publishing and marketing team in order to develop a content strategy that will deliver the Triple E inline with our business goals.
Responsibilities
Perform exhaustive research to gain in-depth knowledge of all customer personas
Perform extensive research and analysis on consumer thoughts and trends
Follow sports and betting markets to know what will engage bettors and users
Create specifications and content appropriate for the brand's customer personas
Strategise content pillars and sub pillars
Plan the editorial calendar and content proposition
Lead the content creation our personas looking for and then to optimisee the path to conversion
Establish a content schedule amongst content writers to deliver consistent content to readers
Collaborate with content management teams, creative teams, and writers to implement the strategy
Supervise freelance writers by collaborating to identify story ideas, assigning stories, and providing feedback on job performance.
Overseeing writing style and tone for all content
Develop content governance guidelines for tone, style, and voice of all content, and ensuring they are followed
Develop editorial strategy, so content is consistent across all delivery platforms
Plan for upcoming events on the sports calendar and build content around search terms for those events, working with the SEO team and content manager on execution.
Conduct periodic content audits
Track and calculating content ROI
Ensure the content strategy meets business objectives
Strategise and improve content delivery and promotion
Analyse content marketing strategy to evaluate whether it's working or not.
What you will be doing
A passion for sports and an understanding of sports betting and fantasy
Understanding of content marketing and what drives engagement
Some experience writing in a digital media environment
Availability to work nights and weekends
Basic knowledge of HTML
Good knowledge of optimising content for Search Engines
Good knowledge in Search Engine Optimisation
Experience in producing content for the web specifically, as well as channel-specific knowledge (Blog, SlideShare, Facebook, Twitter, etc.)
Past experience building audiences either online or offline
Experience in producing smart CTAs according to the visitor lifecycle stage
Good time-management skills
Ability to multitask
Strong interpersonal and communication skills
Critical-thinker and problem-solver
Experience in using Content Management Systems like WordPress and HubSpot
Evening or weekend work may be required on occasion
Bonus: Experience creating conversion focused content on affiliates websites
May occasionally be asked to travel to sites or events in the course of the job.
Based in US East Coast, or UK/Western Europe
Benefits:
20 days per year plus statutory holidays & 5 mental health days off – including Christmas week
Home Working allowance (printer, desk/chair allowance, home broadband & mobile contributions, plus coffee allowance)
About TAG Media
TAG Media prides itself on effecting positive and responsible change with our clients, partners and industry. As an iGaming Marketing consultancy & digital publisher, we ensure, first and foremost, our work with affiliates, operators & game studios raises standards through improved compliance and unique social responsibility strategies designed to protect the end customer, sustain our industry and deliver results for our clients.
Now entirely set up as a remote-working business, the company operates via four divisions. Client Services – our core proposition delivered through Performance Marketing & Business Development services to iGaming operators looking to grow their business around the world. Publishing – a growing portfolio of portals driving high quality leads to our partners. Growth – consultancy, public affairs and training services to the iGaming industry. First Look Games – the leading content marketing platform connecting game studios with affiliates.
Our staff comprises of highly skilled iGaming performance marketing professionals, with team members averaging over 12 years of industry experience with operators of all shapes, sizes and product verticals.